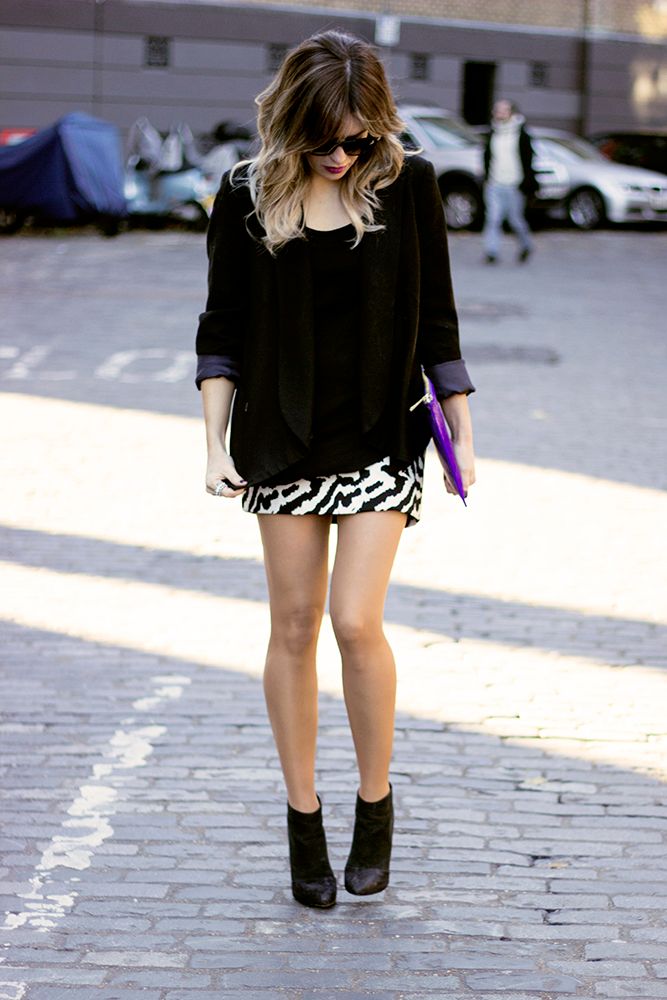 Sweeties!! How are you doing??
Black & white! This combination is always right... Although It's an animal print skirt, It's black and white so that,
you can combine it whatever you like, any color. My idea was combine it with other pattern to create a daring mix,
but the ugly truth is that I haven't got any. Indeed, I haven't got any, to my mother, my sister, and
all the people I known who will be laughing right now: I have not a cool shirt patterned for this skirt!
Therefore, I kept the black and white as a main color and then I chose an electric bag; the one I was wearing yesterday, one side is leather, the other one is fur.
Tomorrow I am starting a Detox diet, again. It's so good for the skin. (diet, in Spanish) I did it already before summer, It helps you to lose some weight but overall, It's super healthy and rich in vitamins. For a year or so, my diet is based on foods that provide me vitamins, (the truth is, when I out, like partying, I always end up my nights in a Old Street's kebab, but I am not hat one :P). blablabla... what I mean is that I am working on a post to show you the food I eat the most.
bombonazosss!! ¿¿qué tal??
Blanco y negro, esta combinación, nunca falla... aunque la falda sea animal print, es en blanco y negro así que, le puedes meter lo que te apetezca. Yo quería combinar la falda con otro estampado, para crear una mezcla atrevida, pero la verdad es que no tengo nada. Si, no tengo, a mi madre, mi hermana, y todos los conocidos que se estarán riendo ahora mismo: ¡no tengo una camisa con estampado molón para esta falda! Por lo tanto, mantuve el blanco y el negro como color principal y le metí el bolso color eléctrico; es el que llevaba en la entrada de ayer, por una parte es piel y por la otra, pelito.
Mañana empiezo otra vez una dieta Detox, muy buena para la piel. (Esta también la he hecho) Ya la hice antes de verano, pierdes un poco de peso pero sobretodo es super healthy y muy rica en vitaminas. Desde hace un año o así, mi dieta se basa en alimentos que aporten vitaminas, (cierto es que cuando salgo por la noche, en plan fiesta, siempre acabo en el kebab de Old Street comiendo, pero bueno, ahi no soy yo :P) blablabla... lo que quiero decir es que estoy preparando un post para enseñados en que baso mi alimentación.
I am waering: Skirt: River Island // Blazer: Zara (old) // Top: Stradivarius // Bag: River Island // Boots: Bershka (old)