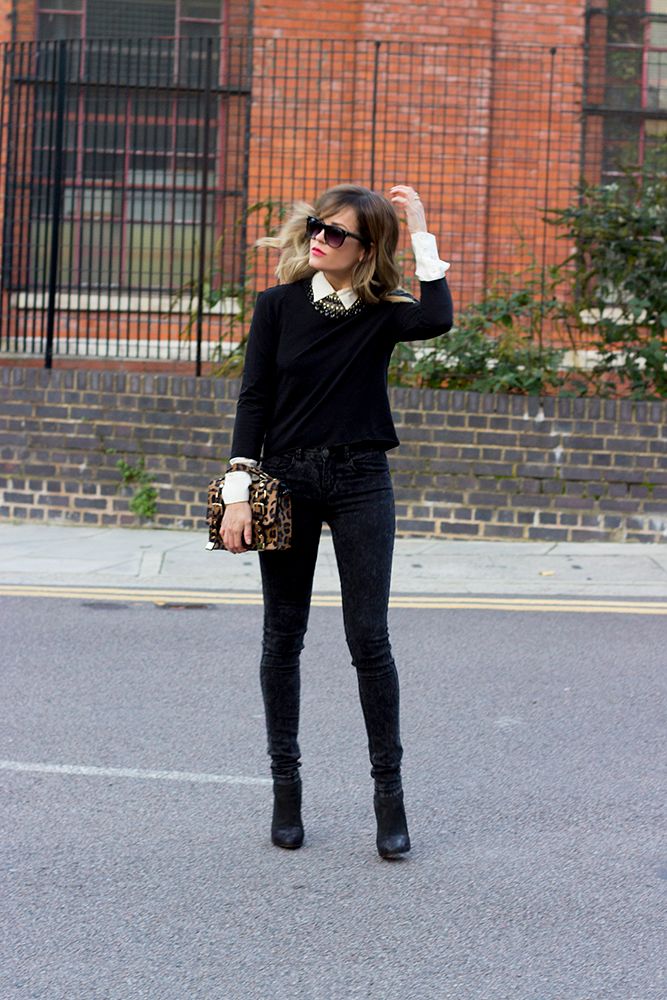 Well! here I am! celebrating the Black Friday with a black outfit. I really fancied a post on this outfit to show how a basic look, you can turn it into a less casual one with accessories and your makeup.
Jeans are basic as the white shirt with the superimposed sweater, taking off cuffs and neck for a cooler look and done! I wanted to go like "smarter" because I was going to "The Folly" with "my paivons" for some wines, after work (we usually go on Thursdays... warming up for the weekend) so I didn't want to go flat.
You already know that heels make you look any more impressive. The point is to find out a pair of
mythical "They are so high but super comfy"... and yourself: oh yes, yes... sure, what I don't understand is why I've had 2 million shoes and it has never happened to me. I don't leave my place without my primark's ballerinas,
black ones with an inch of sole that will fit in any bag and when you put them on you, you are more petite than the papa smurf's daughter . But hey, with humor! I've been told guys prefer small ones... look: AHAHAAH, HOW I AM LAUGHING.
Let's talk about the outfit, right? with my super iphone case very "Gypsy' word" (Spanish TV show) which luckily I broke in two days, this is what the H&M quality is like...Things last.
This bag, I won't wear it any longer, I hate it. I'm like that, yesterday I said to my friend Esther, who finally has a new design on her blog: http://wannaone.com: Last week I wanted all my coats shorts, and since yesterday, I want them long, as I think they are more stylish. That's how things are going for me.
In the end I didn't even talk about the outfit or do anything.
HAPPY WEEKEND MADAFAKAS. LOVE YOU ALL
Pues aquí estoy celebrando el black Friday con un black outfit. Este outfit me parecía interesante postearlo para ver un poco como un look con básicos, lo puedes convertir en algo menos casual con los complementos y tu maquillaje.
Los vaqueros son básicos al igual que la camisa blanca con el sweater superpuesto, sacas los puñitos y el cuello para darle un toque más cool y listo! Yo quería arreglarme un poco porque me íba, junto con mis paivons a "The Folly"
a tomar unos vinitos (vamos normalmente los jueves... calentando motores para el finde) y no quería ir plana.
Ya sabéis que los tacones hacen cualquier look mucho más impresionante. Lo suyo es encontrar los míticos "tiene mucho tacón pero son comodísimos"... y tu diciendo si...si...seguro... pues que raro que he tenido 2 millones de zapatos y nunca me ha pasado.
Yo no salgo de casa sin mis bailarinas de primark negras con un milímetro de suela que caben en cualquier bolso, esas que te pones y eres más bajita que la hija de papa pitufo. Pero bueno, con humor! Dicen que a los chicos les gustan bajitas... mira: JAAJAJAJAJ. ME RÍO YO.
Entonces hablábamos del outfit, no? con mi super funda más propia de "Palabra de gitano", por suerte se me rompió a los dos días, es lo que tiene la calidad H&M; las cosas duran.
Este bolso, mira, pues no me lo voy a poner más, lo odio. Soy así, ayer se lo decía a mi amiga Esther, que por cierto estrena nuevo diseño de blog: http://wannaone.com. La semana pasada quería todos los abrigos cortos, porque me quedan mejor, pues nada, que ayer los quería todos largos porque son más estilosos. Así me va.
Al final ni hablo del outfit ni hago "na".
FELIZ FINDE MADAFAKAS. LOVE YOU ALL . y ahora a traducir al ingléssssss.
I am wearing: Shirt: Massimo Dutti (old) // Jeans: New look (very cheap) // Swaeter: Massimo Dutti // Bag: River Island // Sunglasses: Mango (old) // Boots: Bershka (hasta el nombre es chungo de escribir) // iPhone case: H&M // Rings: H&M
Necklace: Primark (old)